How will you be spending the 4th of July this year? Will it be at the family home or with friends? Or, perhaps you'll be hosting your own party this year, in which case you'll be far too busy preparing to read this! (just don't forget the roses!)
We definitely know what we'll be doing this year, that's right, delivering the world's finest roses in red, white and blue! As with all celebrations, there's always gifting involved (that's where we step in!). If you're looking for the perfect gift to say thank you, on this brilliant occasion, then look no further than our stunning roses for the 4th of July.
We've got arrangements in both our fresh and preserved roses, and in a wide variety of styles to suit exactly what you're looking for. This is a collection of incredible arrangements guaranteed to say all things red, white, blue and beautiful.
Our top gift pick for the occasion is the Infinite Rose Boulevard, a beautiful mixture of our red, white and blue Infinite Roses in an elegant arrangement that captures the essence of the holiday. For those hosting, the Infinite Rose Boulevard also works perfectly as a centrepiece.
If you're unable to be with your family this year, let them know they're still in your thoughts with our 4th of July roses that are available for Nationwide Delivery. Waking up to the world's finest roses is the perfect way to let them know you're not only thinking of them, but you do wish you could be with them.
Happy 4th of July,
OnlyRoses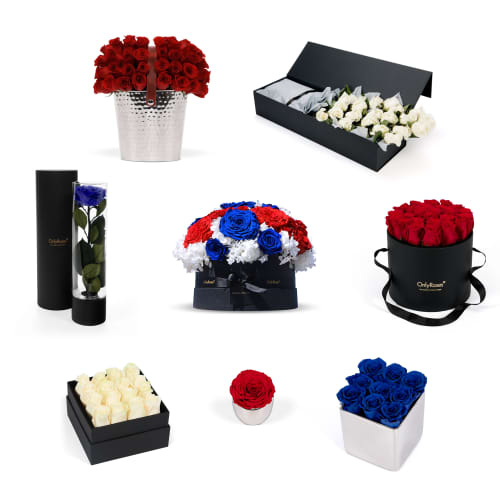 Shop our Roses for the 4th of July